Description
Kawai GL-50 – 6'2″ Classic Grand Piano
GL-50 CLASSIC GRAND PIANO
The GL-50 Conservatory Grand is especially popular among music institutions and professional studios. Experienced teachers are continually impressed by its stable touch and attractive tone that remain consistent over many years of professional use. Its 6'2″ frame is larger than most comparable conservatory grands, allowing the GL-50 provide tone that evokes the qualities of a much larger grand. In a versatile size that is ideal for studios and smaller recital spaces, the GL-50 is a favorite among skilled pianists.
Sometimes, the best role for an instrument is apparent from the start. The GL-50 Conservatory Grand Piano found its highest calling among music institutions, where its versatile size is ideal for teaching studios and smaller recital spaces. At 6'2″, it offers abundant tone quality and bass resonance that is perfect for professional teaching applications. The GL-50 has all the features that earned MMR Magazine's global music industry "Product of the Year" award for the GL Series in 2016 — including the revolutionary Millennium III Action with ABS-Carbon parts that promises unrivaled consistency of touch and control over time. And, like the GL-40, the GL-50 features the CORE System that maximizes the reflective capabilities of the inner rim to provide greater tonal sustain and power. Play the GL-50 and experience the flagship of the award-winning GL Series line.
Length: 6'2″ (188cm)
Width: 60″ (152cm)
Height: 40″ (102cm)
Weight: 736 lbs. (334kg)
Finishes: Polished Ebony
SPECIAL FEATURES:
Kawai's Exclusive Millennium III Action – Featuring ABS-Carbon Technology with Carbon Fiber
Stretcher Over-Lap Integrated Design (SOLID) – Double-width Stretcher Bar for optimum strength
Extended Length Keysticks  –  For more even response from the front to the back of each key
Concert-Length Key Buttons  –  Doubled length for maximum energy transfer and optimum power
Solid Spruce Precision Tapered Soundboard – Permanently crowned for long-term tonal stability
Dual-Duplex Scaling – For added tonal richness
Solid Brass Agraffes – For even string spacing and easier tuning
Multi-Grip 11- Ply Laminated Pin Block
V-Pro Plate – Gray Iron with "Crossbone" Design
Steel-Reinforced Keyslip for strength and stability to avoid sticking keys
Steel-Reinforced, Multi-Laminated Keybed for strength and optimum energy transfer
Ultra-Slow "Soft-Fall" Fallboard
KAWAI Ten Year FULL Transferable Manufacturer's Warranty

TOUCH

The Millennium III action

The Millennium III Action features components made of ABS-Carbon, a composite material created by the infusion of carbon fiber into our renowned ABS Styran. ABS-Carbon is incredibly sturdy and rigid, which allows the creation of action parts that are lighter without sacrificing strength. The result is a stronger, faster action that offers more power, better control and greater stability than conventional all-wood actions.

Longer keysLonger keys make playing easier and provide a more even response from the front to the back of the playing surface. A taller profile and concert-length key buttons make them more rigid to provide exceptional energy transfer and optimum power.
TONE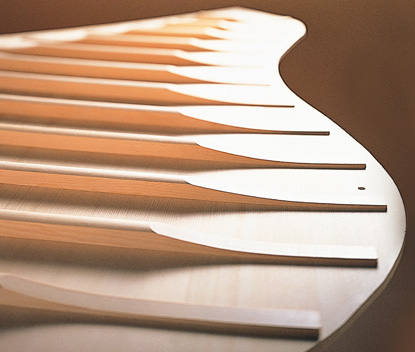 Tapered Soundboard Made of Solid Spruce

The soundboard is the heart of a piano. Its purpose is to transform the vibrations of the piano's strings into a rich, resounding tone. Kawai uses only straightgrained, quarter-sawn solid spruce for GL series soundboards. Each one is strategically tapered to provide the proper degree of resonant movement in each region. Only soundboards that meet or exceed our demanding resonance standards are selected for use in the GL series grand pianos.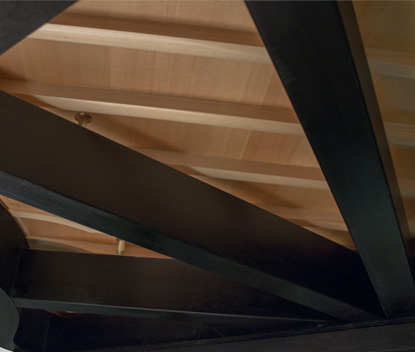 CORE System (GL-40/50 only)

CORE is an acronym that represents "Convergence for Optimum Reflected Energy." Convergence refers to the way the piano's strength centers—the rim, plate and underside beams—all focus on one central point at the heart of the instrument. This focus creates an incredibly strong "core" foundation that maximizes the reflective capabilities of the inner rim for outstanding tonal power and sustain.
STRENGTH
SOLID (Stretcher Over-Lap Integrated Design)

SOLID construction creates an exceptionally rigid foundation to support string tension. First, the pinblock is fitted to the plate. Then, the pinblock and over-lapping stretcher bar are integrated into a single structure and solidly anchored to the rim. The extraordinary thickness of the stretcher bar exemplifies the structural integrity of this sturdy framework designed to ensure stable tuning and powerful tone.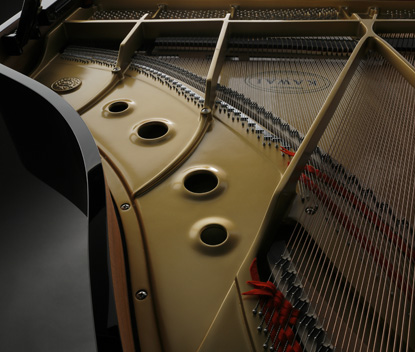 V-pro Plate

The plate is the acoustically-neutral iron superstructure of the piano over which the strings are tensioned. All GL Series plates are molded using the Vacuum Mold Process (V-Pro) with "Crossbone Design." The result is a plate that is strong, stable and beautiful.
GL-50
GL-40
GL-30
GL-20
GL-10
SIZE
Length
Width
Height
Weight
6'2″ (188cm)
60 " (152cm)
40″ (102cm)
736 lbs (334kg)
5'11" (180cm)
60 " (152cm)
40″ (102cm)
714 lbs (324kg)
5'5″ (166cm)
59″ (150cm)
40″ (102cm)
688 lbs (312kg)
5'2″ (157cm)
59″ (150cm)
40″ (102cm)
661 lbs (300kg)
5'0″ (153cm)
59″ (150cm)
40″ (102cm)
622 lbs (282kg)
ACTION
Millennium III
Millennium III
Millennium III
Millennium III
Millennium III
SOUNDBOARD
Material
Solid Spruce
Solid Spruce
Solid Spruce
Solid Spruce
Solid Spruce
BEAMS
4
3
3
3
3
HAMMERS
Moudings
Felting
Maple
Underfelted
Maple
Underfelted
Maple
Underfelted
Maple
Underfelted
Maple
Underfelted
SCALE
Full Duplex
Full Duplex
Full Duplex
Full Duplex
–
AGRAFFES
1st – 54th Keys
1st – 54th Keys
1st – 46th Keys
1st – 46th Keys
1st – 46th Keys
CENTER PEDAL
Sostenuto
Sostenuto
Sostenuto
Sostenuto
Sostenuto
LID PROPS
3
3
2
2
2
FALLBOARD LOCK
Yes
Yes
No
No
No
CASTERS
Solid Brass
Solid Brass
Solid Brass
Solid Brass
Solid Brass